Thirsty for the latest trends? You came to the right place! The non-alcoholic beverage industry is booming and the brands thriving in the market right now were early adopters of innovative concepts. But it's a new year, and there's a new wave of beverage trends that are taking over menus. The following are six beverage categories that we will be monitoring through 2022.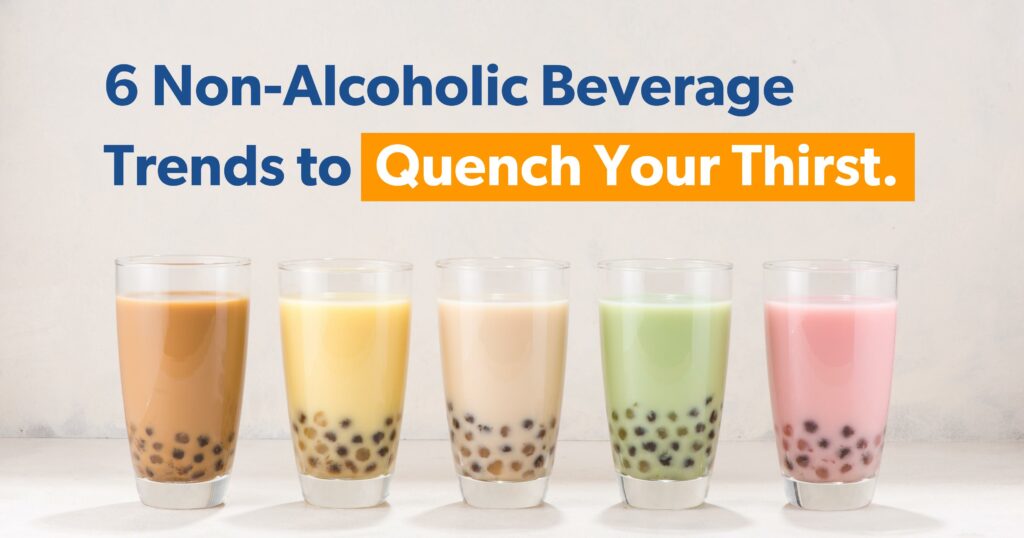 1️⃣ Cold Brew Coffee
Cold is hot! Cold brews are heating up coffee menus growing at 166.4% over 4 years. And in just the past year, GrubHub orders for cold brews were up 116%1. Considering that the average cost of a cold brew LTO in 2021 was $3.91, and in a market expected to hit $1 billion by 20252… that's a lot of coffee! Cold brew coffee is even having an impact in the RTD category. According to S&D Coffee & Tea, RTD products with "cold brew" in the name grew 35% in sales from 2020-2021.
The premiumized take on cold brew coffees that is skyrocketing on menus (and will continue to in 2022) is the nitro cold brew. Since 2017, nitro cold brews have increased 670% at U.S. restaurants. With the average price of a nitro cold brew LTO being $5.13, (31% more than a standard cold brew!) brands that caught onto this trend early on are cashing in on the platform's success.
See how we've helped expand other companies' coffee programs with our cold foam.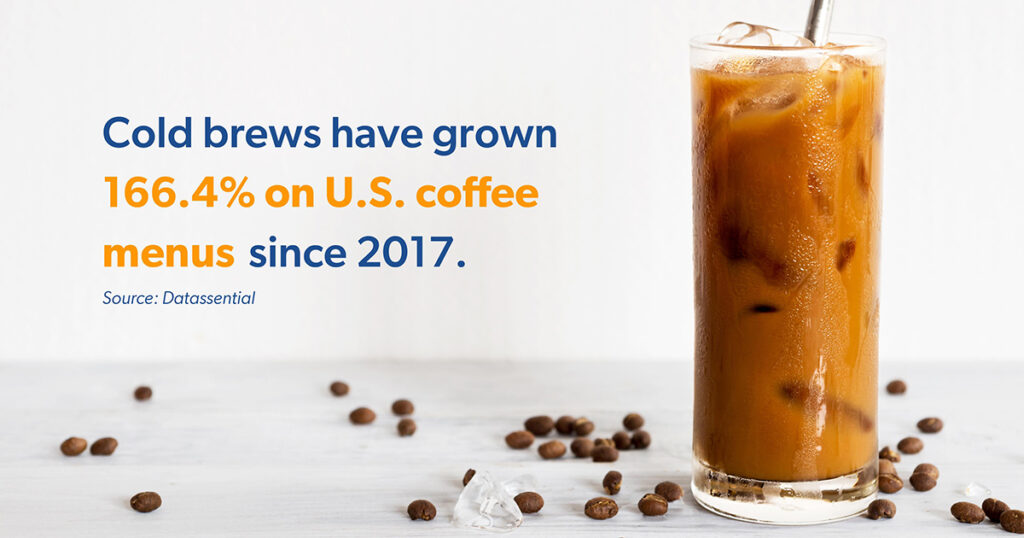 2️⃣ Mocktails
No alcohol? No problem. The sober-curious market is growing. According to Bacardi's cocktail trends report3, 58% of surveyors reported drinking more non-alcoholic and low-ABV cocktails in the past year. This interest stems from consumers who are looking to live overall healthier lifestyles or want to participate in the social aspects of drinking alcohol without the negative side effects. Even Google searches for "mocktails to order at bar" are up 130% over 12 months.
See the data for yourself by scrolling through your social media feeds! Mentions of non-alcoholic drinks on social media have increased 12% annually4. Conversations about making mocktails, non-alcoholic beer, and alcohol-free beer were the most popular topics among the studied social media posts. Additionally, mentions of non-alcoholic champagne (+135%), gin and tonic (+66%) and rum (+42%) increased respectively.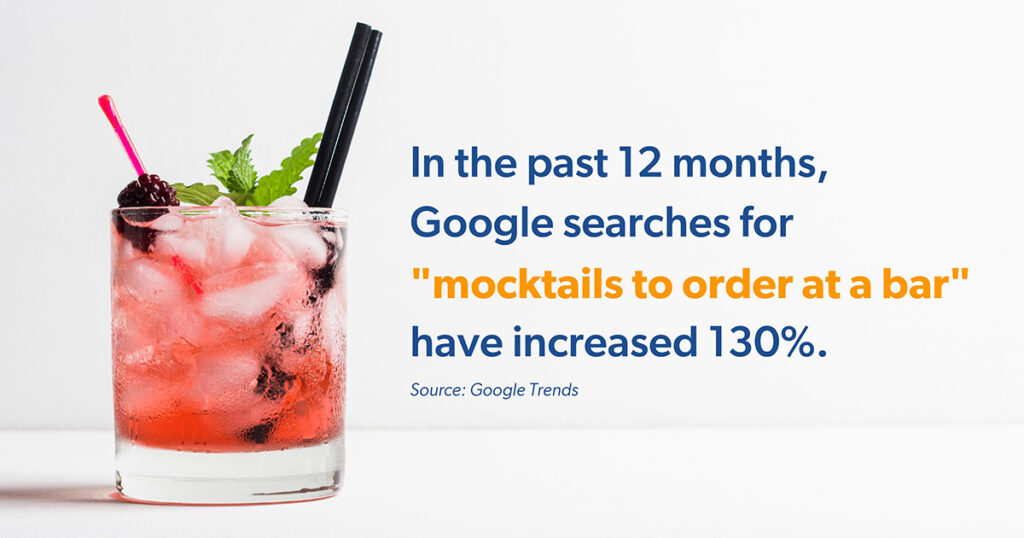 3️⃣ Functional Beverages
COVID-19 forced many of people to take a hard look at their health and how their diets impact it. Compared to 2020, 33% more consumers are turning to food & beverages with functional ingredients to achieve their health goals5. Consumer interest in sleep improvement (+61%), gut health (+40%) and energy (+37%) have all grown over the course of two years.
Drinks promoting gut health are becoming especially prolific in the beverage space. Kombucha, which has increased 203.3% on U.S. restaurant menus over 4 years, is a fermented drink that contains probiotics and is said to aid digestion. Probiotic beverages are predicted to exceed $77 billion in sales by 20256.
Two other health ingredients that consumers are 3x more likely to focus on in the beverage space specifically are postbiotics and nootropics. Tastewise reports that interest in postbiotics, is up 2,355% from 2020. Interest in nootropics, which is credited for supporting brain health, has increased 187% over the same time span5.
Smoothies are a staple functional beverage that span multiple dayparts. Learn more about our versatile, customizable smoothie base.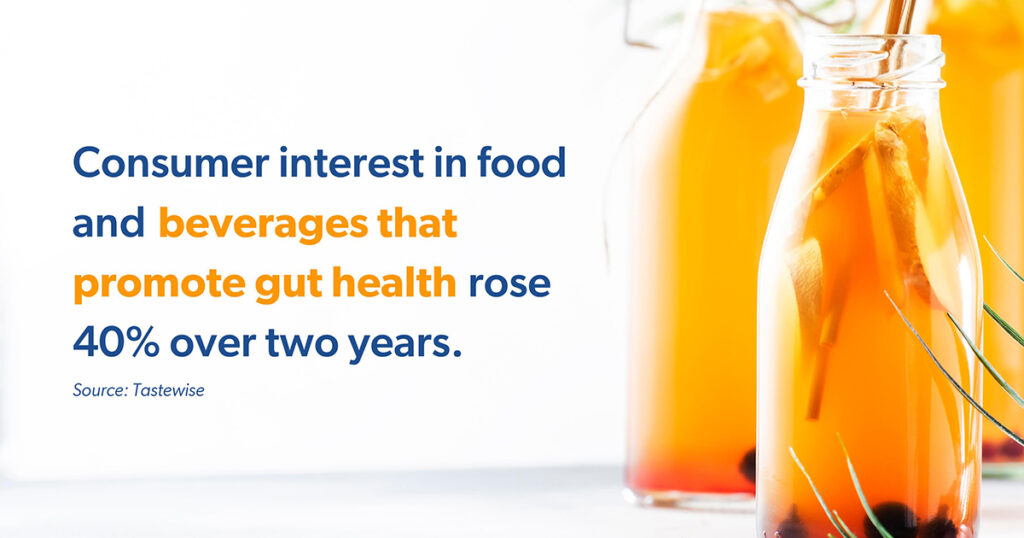 4️⃣ Energy Drinks
Consumers crave convenient, alternate forms of caffeine outside of coffee thus the rise of energy drinks. While energy drinks used to be associated with just a few popular names, the space is much more competitive, and there's plenty of demand for the brand diversity. Since 2017, these beverages have increased 24% on non-alcoholic beverage menus.
Energy drinks are being purchased online at speedy rates. Products in this category continuously top Amazon's best-selling grocery items list (which updates hourly) and are consistently ordered through grocery delivery services. Instacart reported that energy drink sales rose 62% on their app in 20217.
As the energy drinks market continues to grow in 2022, don't be surprised if you start seeing more plant-based energy8 incorporated into these drinks. Use of ingredients like moringa, yerba mate and cascara will take brands one step closer to adding plant-based claims to their packaging.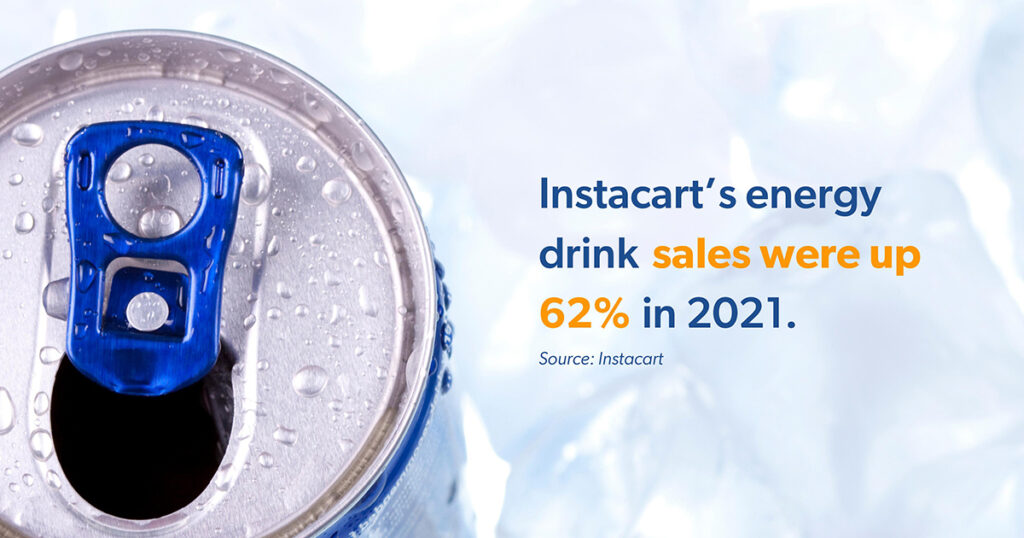 5️⃣ Bubble Teas
The global trend of bubble teas, also referred to as milk teas or boba teas, have made their way into U.S. restaurants. Bubbles teas have increased 44.1% over 4 years on menus with the most significant grown happening at QSRs and midscale restaurants. No matter what you call these types of beverages, they all have one very identifiable feature – boba. Boba is a pearl-shaped, tapioca-filled ball that adds a multi-sensory experience to any drink that it's in. In the past two years, LTOs featuring boba have reached "superstar" ratings from Datassential surveyors, specifically crediting the drinks' broad appeal and strong uniqueness.
Fans of bubble/milk/boba teas are putting their money where their mouths are. In the GrubHub State of Plate Report, bubble milk teas were listed as the #2 top food on the app. Orders were up 505% as of June 20219. But consumers are buying these drinks in person, too. Google searches for "boba places near me" increased 190% and "best bubble tea near me" increased 120% in the past 12 months. With a global market share expected to reach $3.39 billion by 2027, more restaurants will pick up on this trend.
Milk teas don't have to be dairy based. Our oat and nut milks mimic dairy in application and cater to the demands of plant-based consumers.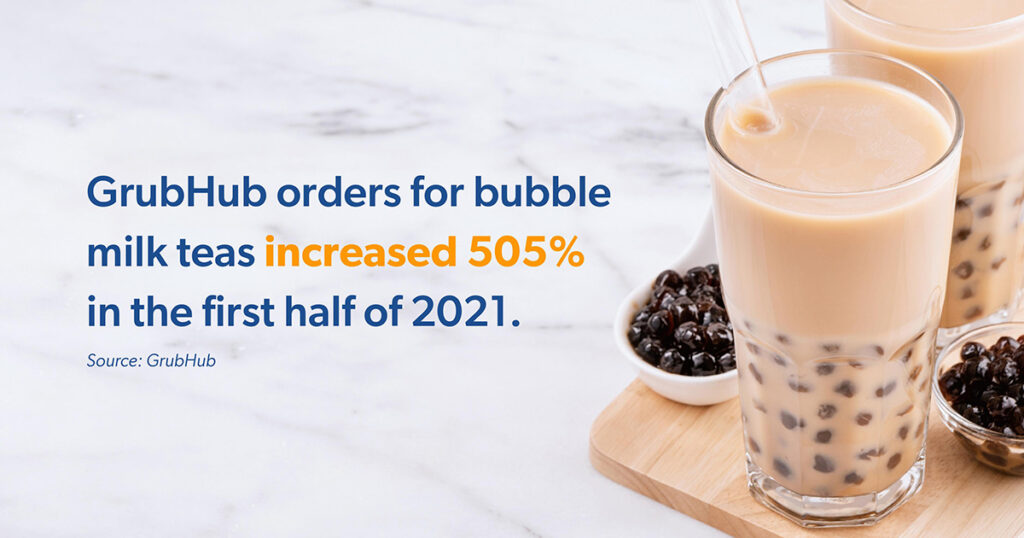 6️⃣ Whipped Lemonade
TikTok trends are impacting consumer behavior. In fact, some research has found that 36% of users have made specific orders at restaurants based on a video they watched on the app. This undeniable influence of TikTok has led to the development of TikTok Kitchen, a virtual brand created in partnership with the social media company and GrubHub, which will change their menu quarterly based on what's popular on TikTok, like the whipped lemonade10.
Whipped lemonades are essentially frozen lemonades most often made with condensed milk or cream. According to Google Trends, searches for "frozen lemonade near me" have increased 200% in the past year, so there's a clear interest in this beverage platform. Sure, lemonades are ubiquitous, but frozen, whipped or creamy lemonades are not… yet. Restaurants and retailers that adopt this concept early on will own the category.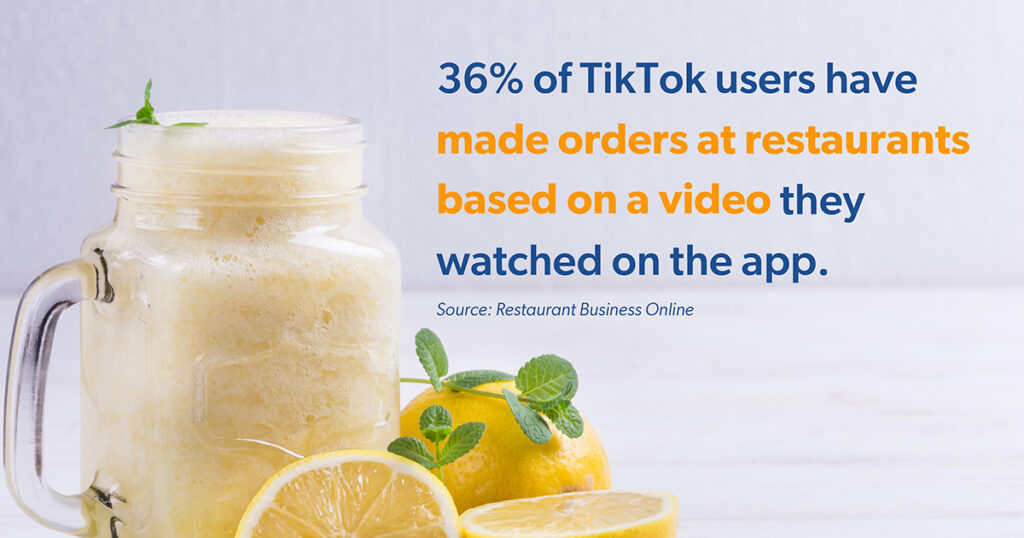 Is your beverage menu becoming a problem? We love problems. Click here to learn more about some of the ways we can enhance your beverage program. Cheers!
Still thirsty? Click here to download our trendfographic!