No business, especially in the food industry, was immune to the negative impacts of COVID-19. And if there's one thing Rubix has learned in response to the pandemic, it's how to be proactive to avoid as many operational disruptions as possible. In recent months, supply chain constraints have become especially crippling for businesses in our industry… but not our customers.
This is how our team of problem solvers is helping the companies we work with pandemic proof their businesses, and ultimately, bottom lines.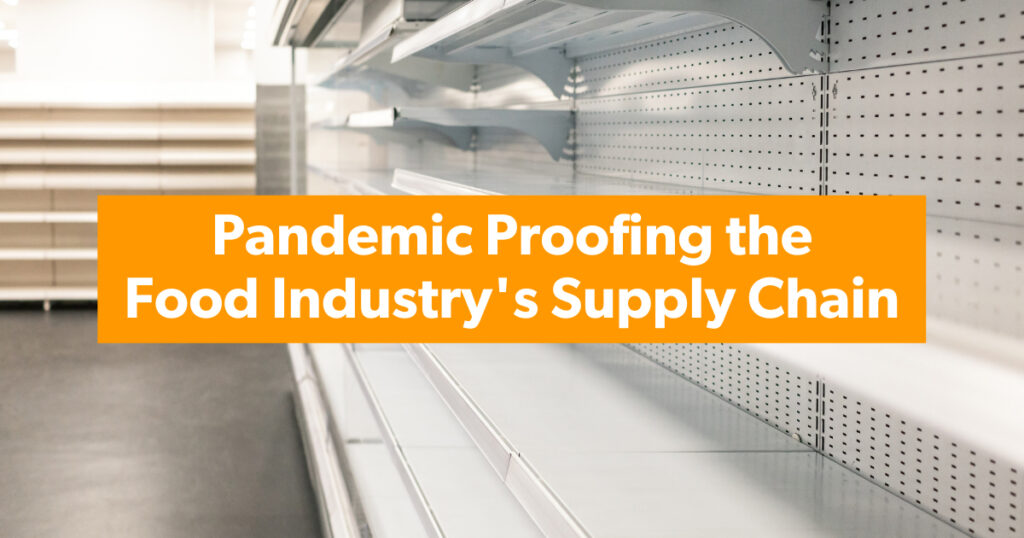 Reformulating Concepts & Flavor Matching
A survey conducted by the National Restaurant Association found that 96% of operators said their restaurants have experienced supply chain delays or shortages on key food or beverage items.1 Some of the raw materials we've seen shortages in are starches, gums, margarine, canola oil, and so on. When we can source these ingredients, we buy them in bulk. But when we can't, we find a substitute.
For instance, one of our retail customers uses a formula with canola oil, but since canola oil is more costly to source, we've swapped it out for soybean oil instead. In a different scenario, an ingredient supplier was unable to fulfill an order for the raw materials for a fast casual restaurant's butter formulation. We were able to find an equal swap to the shorted ingredient and through a thorough reformulating and flavor matching process, we found the perfect match and avoided a price increase.
To assist in these proactive reformulations and flavor matching, we've dedicated a full taskforce to oversee these operations for our customers. Having a committed resource to support our customers' procurement and supply chain teams has been an added benefit of working with us, especially at times when layoffs and shutdowns were at their peak. In fact, Rubix brought on 15 new team members in 2021 alone many of who are focused on supporting the urgent needs of customers battling pandemic woahs.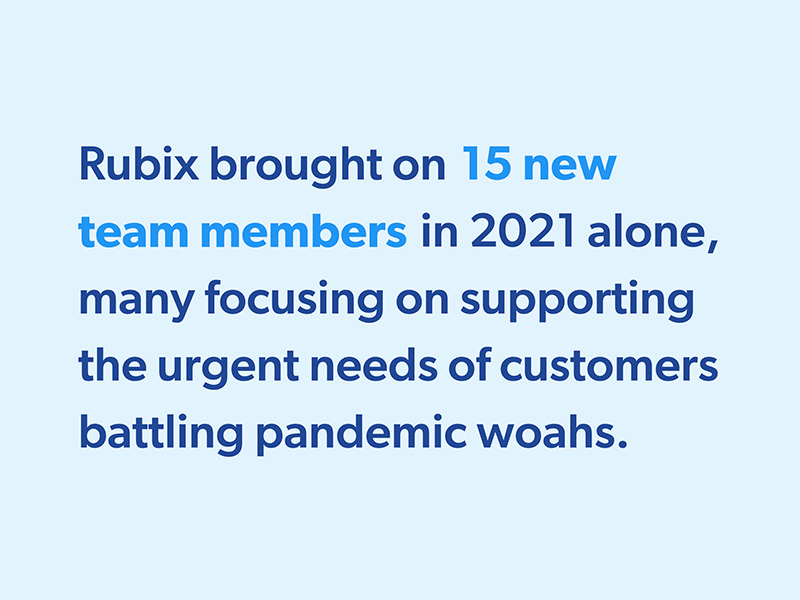 "It's all about collaboration. The R&D and Supply Chain teams have become intertwined since the beginning of the pandemic to solve our customers' supply chain challenges or prepare for potential challenges. We work closely together to look at everything on a case-by-case basis and with our combined levels of experience, we can quickly develop a solution," explains Vice President of R&D and Executive Chef John Penland.
Investing in Packaging
The food industry is facing shortages in packaging materials, too. Demand for cardboard2, plastic and aluminum3 is at an all-time high which means inventory is at an all-time low.
So, we've helped impacted customers find alternative solutions, in some cases, even investing in new equipment that allows for more versatile, in-demand pack sizes. For example, our new ProdoPak capabilities allow us to pack butter and butter blends into 1 oz., 2 oz., and 4 oz. pouches – ideal for our meal kit customers.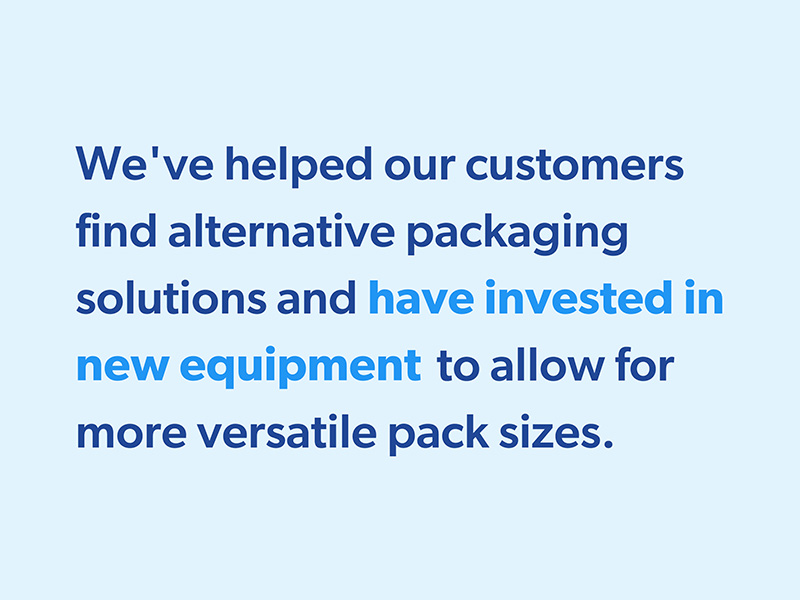 "We don't speculate. We use historical data and industry trends to make educated decisions on material souring, inventory management and overall production planning," says Senior Director of Supply Chain, Marc White.
Managing Manufacturing
While producing a product is part of the battle, manufacturing is an entirely different fight. In the past two years, there's been no shortage of news stories about food manufacturing facilities shutting down due to COVID-19 outbreaks, inclement weather, or a lack of labor. This down time, whether it be temporary or permanent, has had a rippling effect on food companies and consumers.
To bridge the gap in our customers' supply chains, we create manufacturing redundancies across our network of more than 50 plants nationwide. For example, if one plant is unable to manufacture a product because labor is tight, we'll turn to one of our other partners for support. These strategic relationships that we have with our plant partners have been formed over the course of 40 years. And because we work so closely with our plant partners on a daily basis, our team has a constant pulse on the manufacturing capabilities and capacity available to our customers.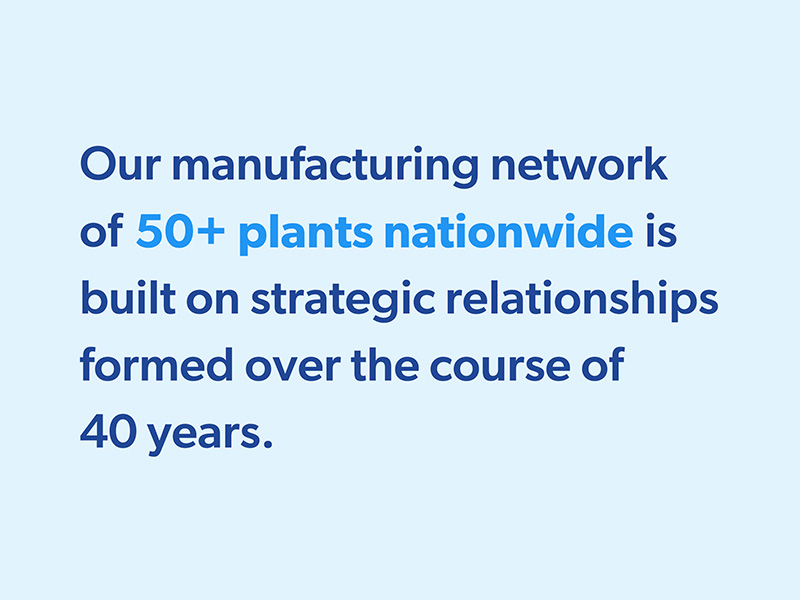 Through these relationships, we can proactively forecast production output, maximize production input, and streamline operations for our customers during trying times. While we already have a vast network of partners, we are actively recruiting more, including 3 added in 2021, giving us the opportunity to better service our customers.
Navigating Freight Constraints
The truck driver shortage has negatively impacted supply chains in nearly every single industry. According to The American Trucking Association, there's a shortage of 80,000 truck drivers and that number is only projected to get higher.4 The less trucking capacity available, the more time it'll take to get products on the plates of consumers. This truck driver shortage has forced transportation and food companies alike to creatively utilize all available space in a truck's trailer.
Sometimes that means splitting up shipments between trucks, or even rerouting production to an alternate plant that's closer to the delivery point to make for a shorter turnaround time. Again, relying on our strong relationships and plant redundancy has been critical in supporting our customers in these volatile times.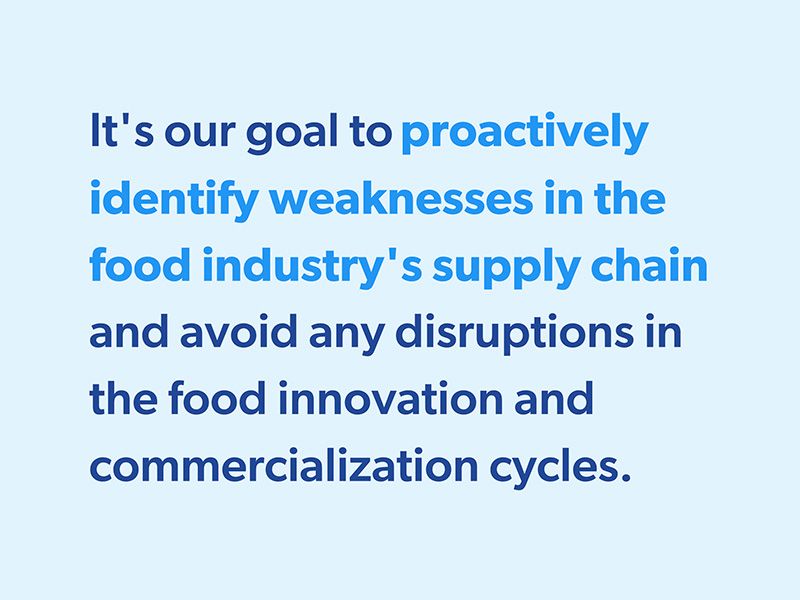 "Nobody is immune to logistical challenges. Through proactive communication, our Supply Chain and Logistics teams work around the clock to ensure we deliver, literally and figuratively, on the needs of our customers," says White.
There are many links in any given supply chain and even if just one link is weakened, the strength of the entire supply chain is compromised. At Rubix Foods, it's our goal to proactively identify potential weaknesses in the food industry's supply chain and implement processes ahead of time to ensure there's no disruption in the food innovation or commercialization cycles later. And, while we can't predict the future entirely, we're still equipped to respond swiftly. The combined skillsets and areas of expertise of our team of problem solvers puts us in the best position to collaborate with our partners on a solution.
If you're looking for a way to pandemic proof your business, here's what Rubix can do:
Forecast raw materials shortages
Flavor match and reconfigure formulations
Produce products in various pack sizes
Create manufacturing redundancies within our network of plant partners
Facilitate transportation and freight delivery obstacles
Got a supply chain problem? We love problems. Click here to tell us more about the challenge you're facing, and we'll Rubix it together.