We believe that big problems lead to big opportunities. So, when we identified a problem in the cold beverage category, our team of problem solvers got to work, and came up with an even bigger solution. Luis Martinez, Senior Vice President of R&D and Commercialization, spoke to Shannon O'Shields, Vice President of Marketing, about one of our most innovative solutions – cold foam – and how it solves a multitude of problems for our customers.
Shannon O'Shields, VP of Marketing: To give the readers some background, our two teams work together regularly to share and discuss market research and industry trends that offer opportunity for further innovation or exploration. The cold beverage category was one major trend that we've been watching for years as the growth, focus, and menu innovation in this space has exploded. Cold foam was an obvious platform to follow within this category, but what was it about cold foam that really excited your team?
Luis Martinez, SVP of R&D and Commercialization: Well, in the beginning we were excited about the proliferation of flavor opportunities. Our marketing team continued to present data on brands like Starbucks who were not shy about introducing new cold foam flavors, which told us that customers were responding positively to the platform as whole. When a platform becomes a staple "add-on" at some of the biggest coffee chains in the world that quickly… it's a good sign that it's here to stay.
But flavor opportunities are not always enough; Our team is looking for problems that need innovative solutions. And while we saw the huge promise in cold foam as an ingredient, we also identified major inefficiencies with traditional cold foam that could cause big problems back-of-house. Making cold foam was labor-intensive, required special equipment and training, delivered inconsistent results, and produced significant waste. Simply put, it wasn't feasible to execute.
Shannon: But, hey, we love problems, right?
Luis: Right! Problem-solving is the at the core of what we do. After we saw and heard the operational challenges associated with making cold foam firsthand, we began our proprietary development of a revised method and formula.
Shannon: Can you elaborate more on that formulation process?
Luis: Leaning on our respective areas of expertise in engineering and dairy, we hypothesized that the best way to mimic cold foam in application was to recreate a blender and a steam wand – some of the equipment used to create cold foam – inside of a pressurized can. But, with it being in a pressurized can, it was important that it had clear differentiators from aerosol whipped cream. It needed to look different from whipped cream in application which meant achieving a specific texture and performance. Our product development team found a way to stabilize the foam system and then destabilize it in a controlled manner, which allowed us to regulate the rate of the cold foam interacting with the beverage, resulting in an ideal performance that stands out from traditional whipped toppings.
Ultimately, we were able to scale up development to a commercial rollout of cold foam to foodservice and retail customers. In early 2021, we officially launched Rubix Cold Foam, a first-of-its-kind low fat, creamy micro-foam topping, packaged and dispensed in easy-to-use aerosol cans.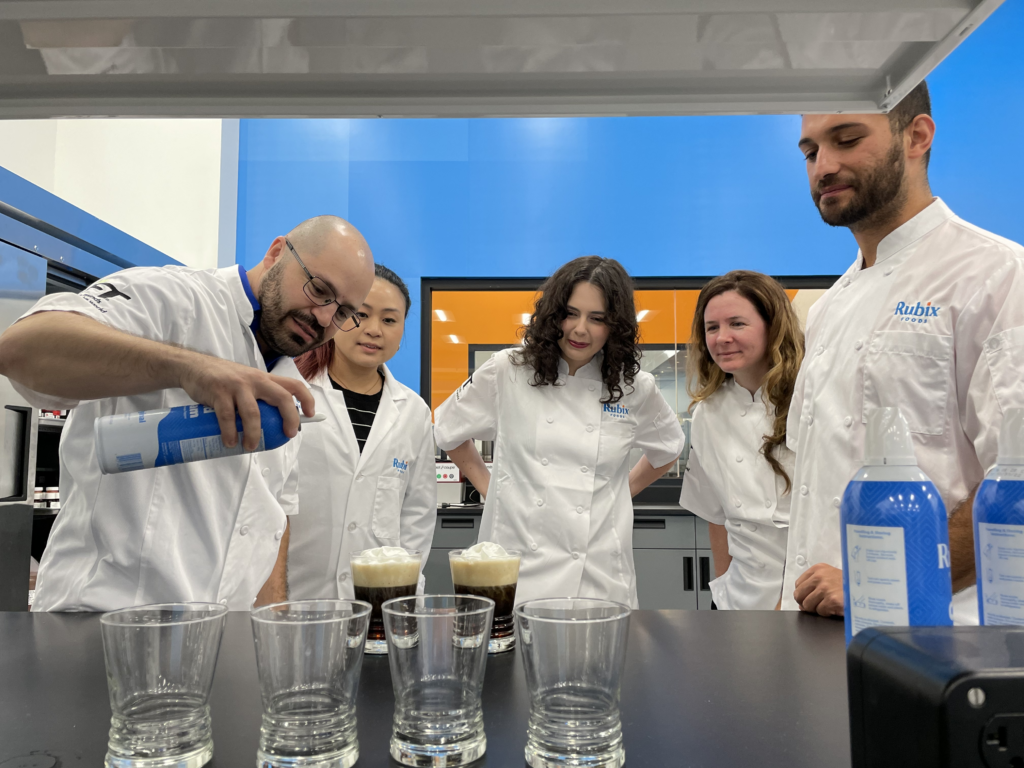 Shannon: What were some of the challenges our team had to overcome to get Rubix Cold Foam in the market?
Luis: Well, as many of us in the food industry know, commercializing a product in the era of COVID-19 brings about its own unique set of supply chain and logistical challenges. Our team worked tirelessly – even bringing on new supply chain team members – to secure raw materials, packaging, and plant redundancy to ensure that our product could be formulated, produced, and shipped to the agreed upon specifications of our customers.
Also, very early prototypes of the cold foam had organoleptic profiles that didn't meet the quality standards of our QA/QC team, or the physical appearance and vision that our innovation team had for the product. After optimizing the formula to one that could be minimally pasteurized, we were able to reach the viscosity levels that we wanted while maintaining a delicious flavor profile that looked and performed the way our collective teams envisioned.
Shannon: It was truly an all-hands-on-deck development, wasn't it?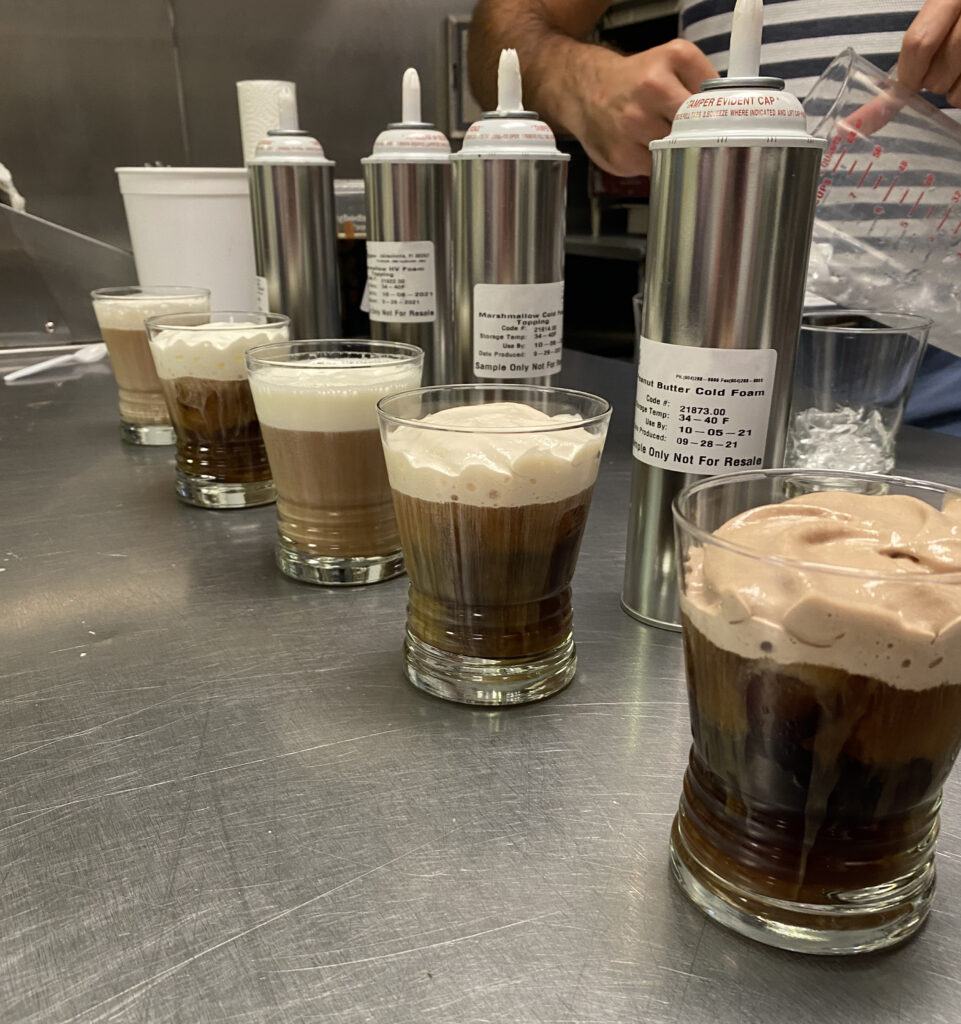 Luis: 100% – innovation doesn't happen in a vacuum! Every single team in the organization had their hands (and brains) on the development and launch of Rubix Cold Foam. From that first marketing manager who asked "Are you tracking this cold foam trend?" and the food scientist who said "I think we can do this better," to the Innovation team who asked "What if we could do it in aerosol?" and the commercialization scientist who said "Now scale it for commercial production!," our approach to developing Rubix Cold Foam showcased a unique ability to assemble a team of diverse thinkers with unique skillsets to tackle some of the industry's biggest challenges. Without this cross-functional collaboration, Rubix Cold Foam would cease to exist.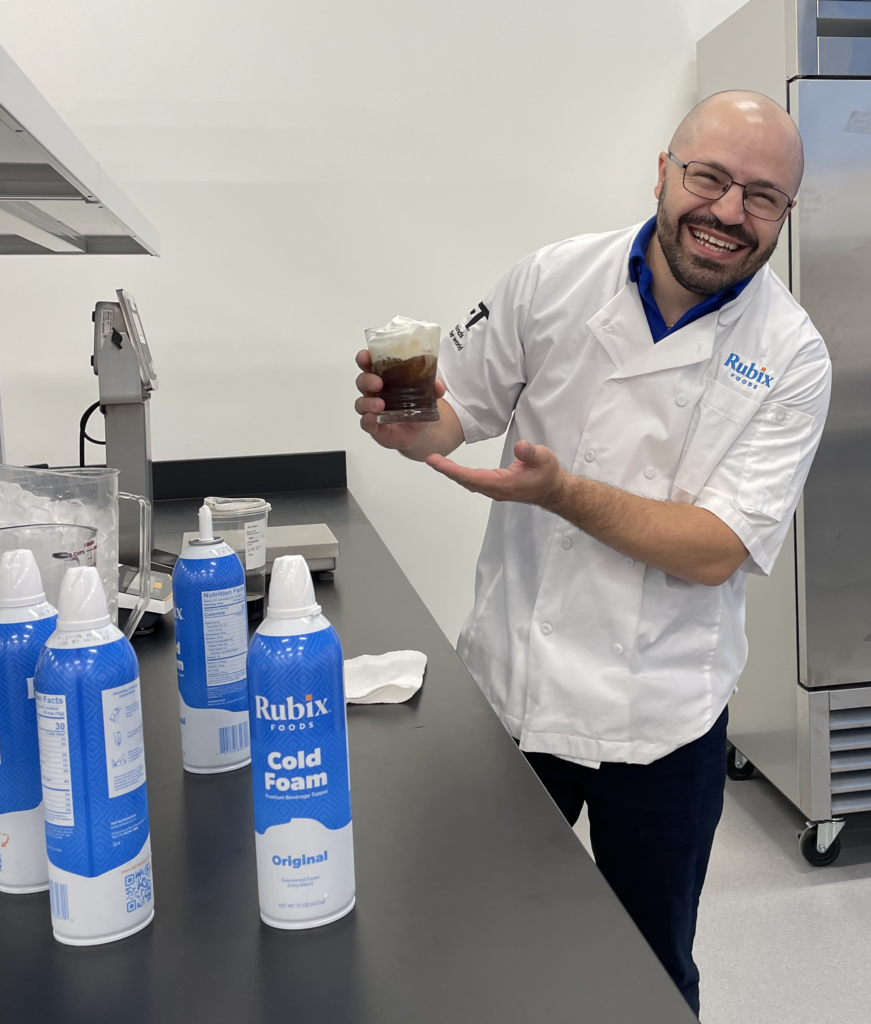 Shannon: What problems has Rubix Cold Foam solved for our customers?
Luis: I think the biggest success story is that this new technology eliminates the need for operators to invest in expensive equipment or training, which is so important right now with the labor challenges that our operators are experiencing. Plus, our cold foam allows them to deliver a consistent and high-quality cold foam every time, increasing throughput, reducing prep-time and waste.
Not only does Rubix Cold Foam address a range of operational challenges back-of-house, but it also feeds consumer demands. We can make cold foam 100% dairy, 100% plant-based, or a hybrid of the two. And of course, there are unlimited flavor customization opportunities to support volume-driving LTOs or seasonal beverages that consumers crave.
Shannon: Cold foam has increased 118% on restaurant menus in the past year. Nobody can deny it's trendiness. But how can we be sure it's not a fad? And how will operators benefit from having Rubix Cold Foam on their menus long term?
Luis: Cold foam is here to stay! Any operator that has Rubix Cold Foam on their menu can expect for this one SKU to increase per-beverage margins, drive traffic to additional dayparts, form consistency in back-of-house, and last but not least, provide on-trend premium beverages to demanding and evolving consumers.
Shannon: We went back and forth on a can design for our private label Original Rubix Cold Foam and landed on a pretty basic design with no mouth-watering pictures or application suggestions. Can you walk the readers through our internal debate on this topic and why we ended up where we did?
Luis: Well, it really comes down to the uniqueness and versatility of our cold foam. Like you said, we debated how best to showcase the product but in the end we decided that by doing what everyone else does (on a can design) or by giving one application recommendation by way of a photo, we're putting our product in a box. This isn't just for cold coffee. We have customers using this to make root beer floats, to top lemonades, and to turn basic espressos into premium cappuccinos. When people grab this can, we don't want to prescribe them any one idea. This product is as unique as the operators that use it.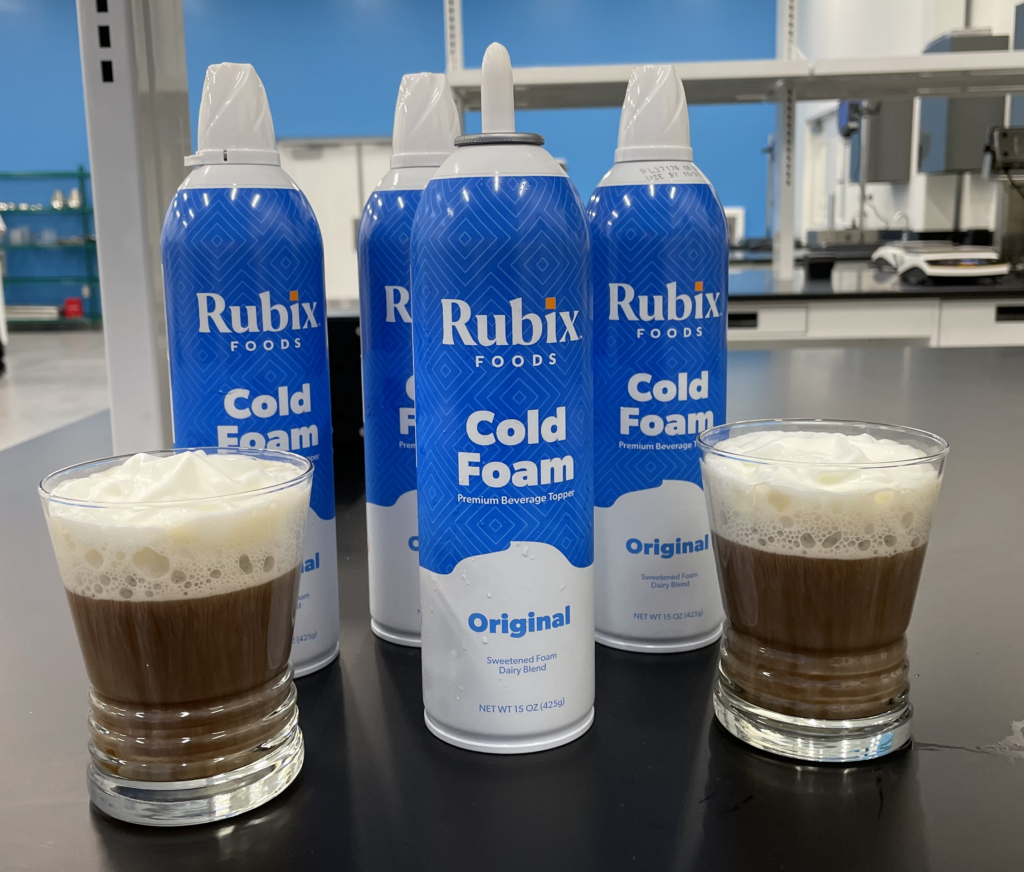 The Rubix culture is founded on a deep desire to solve problems quickly, creatively, and efficiently, and this project was a masterclass in that cross-functional problem-solving ethos. If there's a challenge your business is facing, we want to hear about it. Click here to tell us more and together, we'll Rubix It.